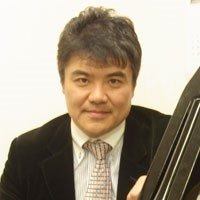 Dr. Prof. Ken ITO is well known Music Composer, Orchestra and Opera Conductor, 
Writer and Professor of Composition/Conducting and of theoretical informatics 
at Interfaculty Initiative in Information Studies, The University of Tokyo. 
With physical, mathematical and versatile methods he analyses wide spectra of 
targets, from condensed matter physics up to philosophy of electronic economy / 
finance, which are his father's specialty.
27 Jan. 1965 Born in Tokyo. 

Studied Piano, Composition and Conducting under Prof. Teizo MATSUMURA, Prof. 
Tsunesada TACHIBANA. Graduated from MUSASHI High School, a well known Japanese 
Science High School since 1920.
1987 As a student, invited Venetian Composer Luigi NONO to The Tokyo University  
     and organize lecture, which was published in Japan in the year 1990.
1988 Music Today Award with the Judgement of Toru TAKEMITSU.
1989 Board Member of International Conference on Music and Information Science,  
     organized by CCRAA Stanford University and National Institute for  
     Informatics.
1990 Bachelor in Physics The University of Tokyo.
     Took part in the first Pacific Music Festival Sapporo as a student, took  
     (his last) interview from Leonard BERNSTEIN for the Music Today Quarterly 
     Magazine.
     IDEMITSU MUSIC AWARD.
     Commissioned numbers of music works both of pure artistic work and media  
     use.
1991 Guest Keyboard player at New Japan Philharmonic Orchestra.
     Assistant Conductor at Tokyo Philharmonic Symphony Orchestra.
1992 Master in Physics, Graduate School of Science, The University of Tokyo
    ("Electron Spectroscopy of Metal Fine Particle").
     Commissioned composer from Kyoto City Orchestra.
1993 Tokyo Metropolitan Award for orchestral composition, judged by Goergy  
     LIGETI.
1994 Commissioned Composer of Tokyo Philharmonic Symphony Orchestra.
1995 Artistic Director and Conductor of the world first performance "The Tale 
     of Genji" by Yoritsune MATSUDAIRA.
1996 Resident Artist at Atlantic Center of Arts with Arata ISOZAKI, Aiko 
     MIYAWAKI and Yuji TAKAHASHI.
1997 Artistic Director of Weekly TV Orchestra Program " Untitled Concerts".
1998 Artistic Director and Conductor of the post-humous work by John CAGE  
     "OCEAN" with New York Merce Cunningham Dance Company.
     TAKEMITSU Award judged by Luciano BERIO.
1999 Ph.D with Brain Cognitive Fundamentals of Music, The University of Tokyo.
     Solution of "Sprechgesang Problem" by Arnold SCHÖNBERG with Sinusoidal   
     Physical-Brain cognitive Analysis.
     Appointed professor of composition, conducting and informatics, the   
     Interfaculty Initiative in Information Studies, The University of Tokyo.
2000 Founding member of Japan National Project "Knowledge Structuring".
     Founding officer of "Tokyo University Research Institute Co."
2004 Establish "Angular Dynamics Conducting Method" with Pierre BOULEZ.
2005 KAIKO-KEN Award for Literature, defending his friend from the department  
     of physics, Tokyo University, Toru TOYODA(1968-2018) who put SALINE gas in  
     subway(Subway Gas Attack by AUM supreme truth cult 1995), cared his 
     definite prisoner up to the execution of death by hanging and post 
     processes. Published numbers of books dealing with ethics of scientist, 
     artists and education thereafter.
2006 Visiting Professor at Tokyo University of Fine Arts and Music.
2007 Establish "Raummusik Kollegium Berlin" with Karlheinz STOCKHAUSEN
     Stayed in Rwanda Republic with the invitation of Presidential Office and 
     take part in the public information ethics project after the GENOCIDE.
2008 Start "RAUM-ZEIT" Physical-Brain Cognitive Analysis with Wolfgang WAGNER  
     and Bayreuter Festspielhaus. Publish books as collaboration with Prof.  
     Shigemitsu DANDO, Criminal Lawyer and Ex-judge of Japanese Supreme Court.
2009 ISTD-JTD Award with non-linear correlation analysis of symmetry-breaking  
     auditory field.
2010 Strategic Diplomat Scholarship by SHIBUSAWA Foundation.
2011 Taking part in the Counter FUKUSHIMA disaster philosophical, ethical and   
     educational program and published texts and books as editor.
     EU project member of "Counter Death Penalty" program.
2012 President of ISTD, Editor-in-chief of Journal of Temporal Design.
2013 Conduct Japanese first full performance of "Tristan und Isolde" by 
     R. WAGNER
2014 Start Block-Chain Research analysis with Prof. Carestous JUMA, Harvard   
     University 
2015 Invited Keynote Lecturer at Japan-German Integrated Science Roundtable at 
     MCTS, TUM, organized by Prof. Klaus MAINZER.
     Japan Social Informatics Association Award.
2016 Chair of Japan-German Encrypted Asset roundtable. Collaboration for Peace-
     keeping Activity with artists from various field; Tota KANEKO, Haiku Poet,  
     Isao TAKAHATA,
     Animation Director and founder of "Studio Ghibli "
2017 System Integration of Full-ears-open Industry Auditory-Visual Augmented 
     Reality, a collaboration with Prof. Hideki SHIRAKAWA, Nobel Laureate in 
     Chemistry 2000.
2018 Formulation of Proportional justice in Man-AI collaborating 
     responsibility.
2019 As a collaboration with IRCAM, applying machine learning on BOULEZ-ITO's  
     angular dynamic conducting method and establish "SPECTRAL CONDUCTING" 
     method.
2020 Formulation of "medical exhaustion" and other parameters on the basis of  
     data-driven cross-correlation analysis.